Blog Archive
Principal's Blog
---
2017 Term 4
Youngies and Oldies
I recently received two pieces of correspondence that give an insight into our children's weekly interactions with pre-schoolers and older folk.
Subject: Morning Tea
Hi Timothy,
My name is Bec. I'm a Kindergarten Teacher at Sunrise Preschool in Thornbury. We often see groups of your children at Pearl Reserve and they are super kind and inclusive with our smaller ones. Today our little ones joined in the game of Fruit Salad and haven't stopped talking about it! We would like to invite them to come to Sunrise for a thank you Morning Tea… and then we could all walk to the park together for a play. Our children would like to make pancakes or muffins to share with 'the big kids'. Looking forward to hearing back from you.
Bec
Sue, one of our chaplains shared her observations and reflections on our weekly visits to a local nursing home, where the children have befriended Betty.
Subject: Nursing Home Visits
Dear Tim,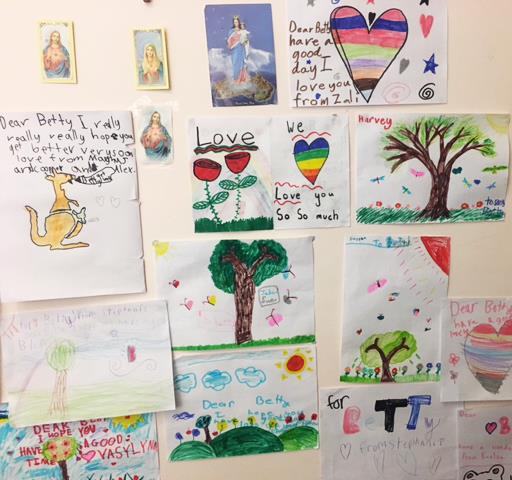 Every week that we walk through Betty's door we are greeted with delight: "Oh, my beautiful children!" and then "Look at the beautiful flowers!" which the children have collected and proudly arrange in vases. Nowadays Betty spends most of her time in this one room. It's hard to imagine your physical world contracting down to such a tiny space - and being immobile within it. It puts our own grumbles into perspective! Some days Betty needs help with her meal; the children draw pictures for her; sing to her and of course, there's general conversation and joking about. The children's artwork just about covers the wall that Betty faces from her bed. She loves to gaze at it all. Most of the children write something like "We love you Betty" or "I hope your leg gets better soon". There is this very natural rise of compassion in the children during the visit - it is heartening to witness this human response to seeing another human being who is frail. (Remember Magnus's query when we were about to step out to get vases, "Sue, shouldn't one of us stay here and comfort her?"). Betty finds great comfort in her religion. Recently we have started praying the Rosary together while the children draw or do jigsaw puzzles beside us. The children have learnt to move carefully around the corridors - especially around corners! I believe that the children benefit from seeing some of the most caring work that happens in our society. And the children love to help - to pass her things and to go to the kitchen to ask for a drink or a snack. Over the hour and a half visit, Betty becomes animated and quite cheeky with the children - she loves to have a joke with them. Physical contact remains important in old age and the children happily offer their cheeks for a kiss and some of them hold her hand for extended periods. Most days Betty is in good spirits, but we've had occasional visits when she has been in more pain, or emotionally upset, and the children cope with all of this as well. I just explain very simply what's going on for her. I know our visits are a highlight of the week for Betty. She misses us during school holidays and is extra delighted when we reappear!
Sue
While these are examples of the children's interactions with youngies and oldies out in the world, similar interactions take place at school. Just an hour before I received Bec's email, I had been watching a group of our big kids playing with a one year old, and had been thinking how lovely our children were with this tiny tot. Interactions with the helpless (babies) and frail (oldies) almost without fail bring out the best in all of us.
One of the traditions established by our chaplains has been to visit old folks' homes. These visits, now going back a decade, have seen quite a number of old people deteriorate, and some pass on. The children have encountered the loss of faculty and physical ability with hardly a blink, extending patience, attention and affection. And a few tears.
I cannot make any specific claims as to the impact of these varied interactions with oldies and youngies, as it is hard to know exactly how we are changed by these interactions. But I do feel certain that we are all richer for the experience.
Timothy Berryman (Principal)
---