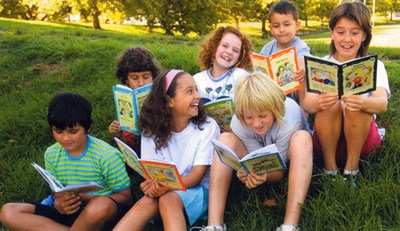 Fitzroy Community School
597 Brunswick Street, North Fitzroy
Victoria, Australia 3068
phone: (03) 9489 2356
fax: (03) 9482 7699
email:

Fitzroy Readers
The Fitzroy Readers were created and developed at Fitzroy Community School by the founders, Philip O'Carroll and Faye Berryman.
This did not stem from any particular desire to create a new literacy method. It was simply that, in the 70s when the school started, our founders could not find any program that they felt would work well for their students. They put together a logical sequence of original phonic readers and work books.
The Fitzroy Readers and Fitzroy Word Skills have now brought literacy success to countless children, something that gives Faye and Philip great joy. They are responsible for substantially bringing the phonic approach back into Australian schools. See here for some articles on phonics. The Fitzroy Readers are now regarded by many as Australia's premier literacy program.
The last few years have seen the Fitzroy Readers adopted in parts of East and South East Asia, where schools take a practical approach to literacy, and simply do not use methods that do not work. The last couple of years have also seen the school's Mathematics Program (Fitzroy Maths) begin to leave the classroom, and be offered to the wider community.
These additions to the Australian educational setting are only possible when schools are given the freedom to exist, innovate and adapt. (Sadly, in the current environment, while the stated emphasis is on so-called school autonomy, the push actually seems to be for more compliance and adherence to the status quo.)
Those interested in the Fitzroy Readers and Fitzroy Maths learning materials should explore the Fitzroy Readers website at: www.fitzprog.com.au
Fitzroy Programs
593 Brunswick Street, North Fitzroy
Victoria, Australia 3068
phone: (03) 9489 5700 fax: (03) 9482 3226
email: info@fitzprog.com.au